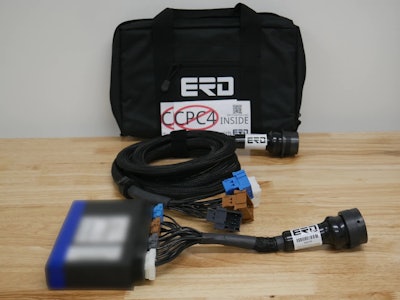 With cases of common powertrain controller thefts out of trucks on the rise, an industrial electronics repair company has developed a new theft prevention kit that could help truck owners keep their rigs on the road.
ERD Industrial Electronic Repair and its CPC4 team back in June started receiving inquiries from dealers and truck owners that were experiencing CPC theft when their trucks were parked.
ERD's CPC4 production manager came up with the idea of making a quick-release cable assembly, and the company started talking to truck drivers about the idea.
"With the suggestions of several drivers, we built a prototype and installed it in our ERD test truck to make sure we did not cause any issues with the truck's operation," said Alexandra Yarnevich, ERD business development specialist. "After a few tweaks, we then made a test batch and started marketing the cable via a new entity called ERD Powertrain."
Under the ERD Powertrain brand, the new CPC4 Quick Release Harnesses are now available to order for truck owners. Yarnevich said the cable assembly has been "thoroughly tested" for months.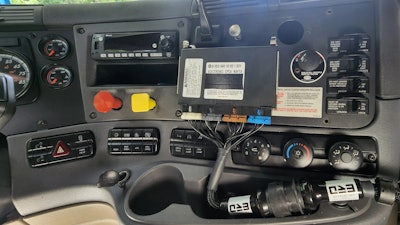 Once installed, truck drivers will simply disconnect their modules from the harness and take it when them when they leave their truck.
"As an owner-operator, if you're pulling your CPC4 out every night, you're causing wear on your OEM harness which is not designed for repeated connection cycles," the company said on its product page. "Our quick-release harness gives you the same security with a quick-release connection that's engineered to be reliable."
For owner-operators or fleets that may have already taken measures to secure their CPC4 modules, the harness "will augment your existing security to keep things easy for drivers, which increases compliance with security measures, both on-site and on the road," ERD added.
The harness kits include a carrying case for the CPC module and two removable stickers that let thieves know there is "No CPC" on board. 
ERD has also published a video detailing the installation process:
The company also sells a CPC4 Harness Repair Kit, which requires a "bit of technical knowledge to determine which wire in your OEM harness should go to which cavity of the connector," and added that most drivers will likely need a mechanic to install.
ERD has a proven history of CPC4 repair, with more than 2,000 units repaired in 2022, the company said.