CCJ Innovators profiles carriers and fleets that have found innovative ways to overcome trucking's challenges. If you know a carrier that has displayed innovation, contact CCJ Chief Editor Jason Cannon at jasoncannon@randallreilly.com or 800-633-5953.
The electronic log mandate presented motor carriers seven years ago with an opportunity to explore new mobile fleet management technology that can be deployed via consumer-style devices.
Rather than deploy an off-the-rack driver workflow application from its ELD vendor (Platform Science), Murfreesboro, Tennessee-based FirstFleet developed its own using the vendor's software development kit (SDK), building and deploying a customized application.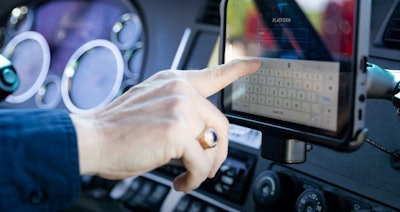 "The intent was to reduce driver frustration, increase their overall quality of life, increase the quality of the information we get from our driver workforce and increase the quality of communication between our driver and dispatch team members.," said FirstFleet Chief Information Officer Austin Henderson.
As a dedicated contract carrier, FirstFleet (CCJ Top 250, No. 48) manages a wide variety of unique customer requirements. Its custom workflow application – "a direct replacement for conventional telemetry provider-delivered workflow solutions," Henderson said – manages data capture by validating the accuracy of driver entries.
"What makes ours different is it's directly connected to the TMS; there's no disconnect," he said. "So in the past, a driver would fill out a form in a workflow application and submit it, and it might have contained errors. Then a dispatcher has to parse these entries, then resubmit that and reprocess it, which slows down the flow of EDI (electronic data interchange), slows down P44, slows down MacroPoint ... All these sorts of integration experiences are now crippled because the driver types in a trailer number that's invalid."
When picking up a trailer, for example, the Android-based workflow application sends the driver a screenshot of the customer's sample bill of lading (BOL) with an arrow pointing to the BOL number. The application knows what format the BOL number the customer or bill to authority uses. For example, if the BOL number is nine digits, the application won't let the driver enter 10 digits.
"The device, in the past, had not known that. Our intention with this project was to extend the TMS into the cab. So, if the driver enters in a trailer number and it's not a valid trailer number, tell the driver it's not a valid trailer number; don't accept it. Like, why would we move on knowing the data is wrong? We know at the point of entry there is a problem."
Drivers previously entered information into a generic workflow form that wasn't load- or customer-specific. In some instances, Henderson said drivers were given the opportunity to enter the temperature of a refrigerated load while pulling a flatbed. FirstFleet services about 20,000 orders a week, processing several hundred thousand driver interactions through the workflow application weekly, so redundant questions or questions not applicable to the load quickly become cumbersome and useless information.
"We don't ask the driver irrelevant questions. We don't ask them anything that we already know," Henderson said, "and we try to ensure that the information that the driver provides us is going to drive up the data integrity so that the customer, in the end, is more satisfied."
The application only asks for information and accepts answers that make sense based on the driver's location, equipment and load. If a driver is asked to enter a trailer number, the workflow will only accept a trailer number that is valid based on the protocol and location of the asset.
For example, if the driver enters a number for a trailer that's 400 miles away, the workflow prompts a "dynamic call to action" that forces the driver to double-check the number, Henderson said. When drivers enter a parking lot, they can also click a "Locate Trailer" button to find the assigned trailer, saving them time and increasing safety.
"Again, why would you let that driver type in that trailer number? Why wouldn't you at least warn the driver, 'Hey, we think that trailer number is 400 miles from you?' We know where [the trailer] is. Why not share that with the driver? Just show them the overhead photography of where it is," Henderson said.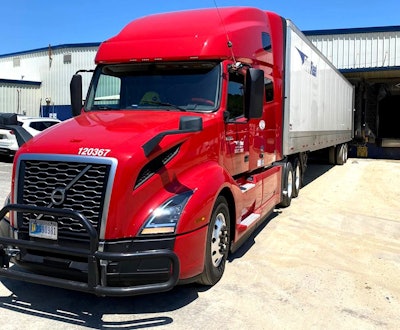 Another element of improved safety is FirstFleet's driver tools, which include a communication hub – part of an effort to "take a generally remote workforce and make them feel close to the company," Henderson said – and monitors driver safety.
When a critical event occurs – hard braking, for example – the workflow prompts the driver to explain what happened and what could have prevented it. Those answers are routed to the driver's safety manager and fleet manager for review. More than 55% of events that managers review have immediate driver interaction, Henderson said, which helps determine who needs coaching. It also protects FirstFleet in that it not only captures questionable driving behavior, it encourages prompt dialog on the incident.
"The driver gets a notification that communicates, 'We just detected a critical event. When you get to a place where you're safely stopped, please tap here and answer some questions about that event.' And it takes them right to the questions," Henderson said, noting the capability was made possible by integrating its custom API within Platform Science's framework so seamlessly that "the driver experience is a seamless and cohesive interaction".
"It's not clunky. There's no logging in more than once. All that stuff has all been accommodated," he said. "Every single driver coming on board today, if they're familiar with Amazon, Netflix, Reddit ... these individuals understand that 'I should tap the button, and something should happen.' So, we're trying to deliver an in-cab experience consistent with their consumer expectations."
Henderson said the company is working to build out the capability to include validation of fueling transactions to reduce the potential of fraud and theft by requiring dynamic PIN numbers on fuel cards.
"We're activating their fuel card in real time, essentially, so that they can't use the fuel card in a situation that doesn't make sense. Historically, trucking companies are only part of the fuel transaction – afterward at settlement time," he said. "But now we can use Platform Science SDK and collect helpful data points, like what's the fuel and tank look like? What's the driver's current duty status? What's the latitude and longitude? So, when that transaction completes, we will be able to marry what we saw before the transaction with what we see after the transaction to identify they purchased 150 gallons and, in fact, tank volume increased as expected. Further by requiring a dynamic PIN we greatly reduce the impact of skimming efforts."
Elevating dispatch-driver communications
As part of improving the driver experience, FirstFleet sought a single view of driver-dispatcher messaging for general awareness and to manage communications inside and outside the cab, but dispatchers needed visibility into drivers' hours of service to prevent the sending of messages when driving or off-duty.
FirstFleet deployed a real-time driver messaging platform last year, RELAY, from Motorcity Systems, which the carrier aided in development of and Henderson likens to Slack for its driver and dispatcher communities.
The cloud-based RELAY platform gives dispatchers a single interface to manage in-cab and mobile communications while providing a real time view of drivers' hours of service duty status. It also has a variety of features that allow dispatchers to send messages to drivers in select geographic areas to alert them of weather events and local hazards, for example. It helps dispatchers manage driver relations by having pictures next to driver names and offers reminders for birthdays and military service status. RELAY also keeps a timeline of interactions, and dispatchers can search for various items (like a load) to see the history of related driver and dispatcher messaging for that item.
The CCJ Innovators program is brought to you by Bendix, Comdata, Freightliner Trucks, SkyBitz and Valvoline.