Freightliner on Wednesday at Manifest Vegas, a global logistics and supply chain technology showcase held in Las Vegas this week, debuted its SuperTruck II, the company's second entry in a pair of multi-million dollar projects co-funded by the Department of Energy (DOE) that aim to reduce emissions from on-road freight transportation and increase freight efficiency.
Freightliner unveiled its first SuperTruck in 2015, capping a five-year development process with the DOE and industry manufacturers and suppliers. Many of the features from the first Freightliner SuperTruck can be found on current Cascadia models, like enhanced aerodynamics, improved engine thermal efficiency and powertrain integration technologies such as downspeeding, and predictive powertrain controls.
Now, eight years later, SuperTruck II leans on enhanced tractor aerodynamics, low-rolling resistance tires, powertrain improvements and energy management with advanced technologies as innovations that could also potentially enter production.
Rather than simply chase benchmark numbers, Daimler Truck North America (DTNA) Senior Vice President of Engineering and Technology Rainer Mueller-Finkeldei said the company intently focused on improvements to core truck components "based on the objective to maximize freight efficiency for our customers while helping to reduce the carbon footprint of trucks and engines. Taken all together, the combined innovations developed for the Freightliner SuperTruck II have provided us the opportunity to explore the technologies needed to meet stringent and forthcoming Greenhouse Gas reduction requirements in the coming years."
The first SuperTruck overachieved DOE requirements with a 115% boost in vehicle freight efficiency (compared to conventional tractors available at the time); a 50.2% increase in engine brake efficiency; a 54% reduction in overall aerodynamic drag; and a sustained 12.2 miles per gallon logged at 65 miles per hour on a stretch of I-35 between San Antonio and Dallas, Texas.
SuperTruck II has three targets: a greater than 100% improvement in vehicle freight efficiency (on a ton-mile-per-gallon basis) relative to a 2009 baseline for a long-haul freight application; a demonstration of a minimum 55% engine BTE at 65 mph (104 km/h) on a dynamometer; and the development of cost effective efficiency technologies.
Like its older sibling, Freightliner's SuperTruck II too surpassed expectations with high marks in aerodynamics, tires, powertrain and energy management, while also doubling the freight efficiency of the base vehicle from the start of the SuperTruck program.
Most aerodynamic, efficient Freightliner ever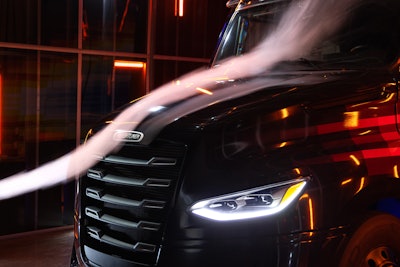 SuperTruck II achieved an aerodynamic drag reduction of more than 12% over SuperTruck I, and was able to do so without radical reinvention. Engineers and designers instead redefined the existing shape of Freightliner's flagship Cascadia to maximize aerodynamic efficiency while simultaneously employing advanced design language to convey that efficiency to passersby.
A redesigned hood, bumper and chassis fairing all work within the existing cab structure and allows the air to flow undisturbed around the truck. The exterior doesn't feature any sharp edges and the grille, air intakes and doors were redesigned to be as seamless and clean as possible. Active side extenders and a roof spoiler system closes the trailer gap by up to 4 inches at highway speeds and an enhanced Aerodynamic Height Control lowers the truck for additional aerodynamic improvement.
"We wanted to create a shape that makes efficiency exciting," said DTNA Chief Designer Jeff Cotner, adding that designers imagined the surfaces of the truck being carved away by the wind.
"Nature has a way of creating the perfect sculptural shape when the material is light and airy like snow or sand. This was our inspiration in creating the new expressive form language for the Freightliner brand." he said. "Sometimes what the eye sees is not what the air sees. We let the areas most critical to aero performance design themselves and integrated the more expressive lines in the places where the drag is neutral. Our goal was to gain as much freight efficiency as possible and create a beautiful looking truck at the same time. It was important to us that we didn't change something just for the sake of changing it."
Designers were able to use National Highway Traffic Safety Administration (NHTSA) exemption to remove exterior mirrors in favor of an integrated mirrorless (and aerodynamic) camera system.
The SuperTruck II powertrain – a non-certified prototype Detroit 13-liter engine equipped with two-stage turbo and interstage cooling and a 13-speed overdrive transmission – reduces fuel consumption by 5.7% over SuperTruck thanks to lower downspeeding (enabled partially by a 1.75:1 rear axle ratio) and greater fuel savings through reduced drag overdrive. The SuperTruck I powertrain was a 10.7 liter Detroit engine featuring a rankin cycle waste heat recovery system, model-predictive engine controls and a hybrid driveline mated to a conventional DT12 automated manual transmission and 2.28:1 rear axle ratio.
A split cooling system deployed on SuperTruck II consists of high- and low-temperature cooling circuits that work in tandem with two-stage turbocharging and Exhaust Gas Recirculation (EGR) cooling on the engine. Together, these technologies result in further efficiency gains enabling more aggressive downspeeding, DTNA said.
A smart engine lubrication circuit minimizes internal pumping losses, thus reducing engine parasitics by actively proportioning flow to the most sensitive components.
Adaptive tandem axles allows increased torque and automatically shifts from 6x4 to 6x2 at highway speeds.
Lower rolling resistance, higher voltage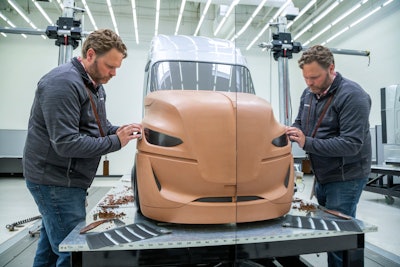 Michelin, a partner on both Freightliner SuperTruck projects, co-developed new tires specifically designed for adaptive tandem axles to not only reduce vehicle energy consumption (engineers reduced tractor rolling resistance by 12% over SuperTruck I), but also to reduce maintenance downtime due to minimized wear and tear on the tires.
SuperTruck II features a 48-volt electrical system outfitted with lithium-ion batteries, enabling a new electric steering system to adjust demand as needed, or to operate during EcoSail while the engine is off.
The EcoSail feature can turn the engine off when drive power is not needed without intervention or input from the driver. If the truck is coasting down a hill while the engine is off, features like air conditioning remain in operation. When power is needed, the engine automatically restarts.
More 48-volt features result in decreased fuel consumption and increased driver comfort like a new electric air conditioning system that consumes 50% less energy than SuperTruck I and continues operation when the engine is off.
A 48-volt starter turns over the engine with more power and speed. Finally, the new 48-volt electrical system operates the hoteling features without the engine running while delivering 12- volt power for the standard cab items like lighting or the instrument cluster.
DTNA has already been awarded a grant for SuperTruck III, which includes the development of a hydrogen fuel cell electric tractor that exceeds heavy-duty long-haul sleeper performance, efficiency and range requirements without sacrificing payload. SuperTruck III designs are planned to be revealed by 2027.